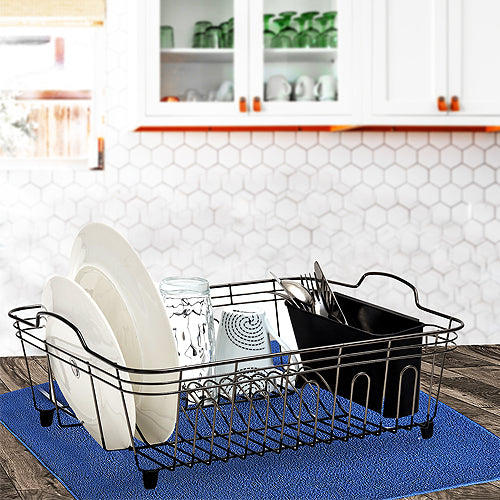 Microfibre Dish Drying Mats - How to Use Them
It is a constant awkwardness picking up the freshly washed dishes from the rack to find those droplets of water still clinging desperately from your dishes. 
This was the story every day till the day I discovered the Magic Microfibre Dish Drying Mats.
The Microfibre Dish Drying Mat can be used to collect up the remaining pores of water left on your dishes after you've dried them with your Dish Drying Towel. 
If you don't use a Dish Drying Towel to dry your dishes - no matter!
Instead, after you've hand-washed your crockery and other dishes you can simply just place them on the Dish Drying Mat facing down so all the water remains can slide down right onto the mat where it is thus absorbed.
You can also spot it underneath your machines to shield your ledge from scratches and scrapes.
Highlights of Using Microfibre Dish Drying Mats:
 Highlights
How it Works
Additional Protection

The center of this mat there is a meager layer of foam that gives a pad to your dishes and crystal while at the same time shields your countertop from harm.

The inward foam additionally keeps up the state of the mat and absorb excess water.

Anti-Skid Design
Delicate Microfibre pad and flexible foam provide cushioning to dishes and stemware from chipping or breaking, while at the same time shielding your kitchen counters from dampness, scrapes and other harm.
Super Absorbent

The ideal mix of structure and capacity, this microfibre dish drying mat retains water from drying dishes.

Furthermore, its overlay foam center resists smells and holds up to everyday use.

Folds up for easy Storage

The lightweight simple design looks simply elegant on your counter and easily accommodates a shockingly enormous number of dishes when being used.

At the point when not being used, helpfully folds up for minimal stockpiling in a cabinet or pantry, keeping occupied kitchens scatter free
Other Uses
Aside from the standard use of Dish Drying Mats, here are some other unpredictable uses.
1. Use it to dry your washed/wet shoes
All things being equal, a dish drying mat can likewise be put in your gallery to absorb the dribble off your washed shoes. This would spare you the issue of cleaning your overhang floor pointlessly.
2. Use to dry fruits and veggies
Just wash your veggies and fruits and place on the drying mat it will quickly absorb all the tickling water from them without creating any mess in your kitchen. 
3. Keep one to fill your day by day water bottles
While filling bottles for day by day use, you can put a mat directly underneath the jugs. Any spillage would get effectively absorbed by the mat.
Care instructions
Wash separately for the first few washes as colors may run.
Use a liquid detergent rather than a powder.
Wash at 40 degrees.
Do not tumble dry.
Wring it out and lay it flat to dry.